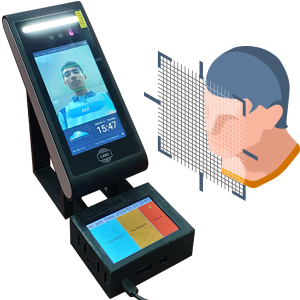 Face Recognition Attendance System
POS Market Face Recognition Device is our new live face scan device. Packed with powerful features such as detect and track 5 persons simultaneously shown on the screen, flexible detecting distance from 0.5 meters to 4 meters, works great under sunlight or night. This device comes with an attendance system, working together with a 3.5″ Touch Screen to capture attendance and access control.
The Face recognition attendance system offers simple and efficiently manageable HR software that provides a platform to maintain attendance records. The biometric face recognition system is rapidly becoming an essential tool for all HR departments to easily track employees' time and attendance records.
Face Recognition Time Attendance Management System
Facial recognition is one of the best and simplest bio-metric technologies as the biometric technology uses only the person's facial features for identification. This prevents various well-known HR issues and keeps human resource operations in order.

Eliminate Human Error
Facial recognition software provides employers means of tracking their employees' attendance while eliminating human error such as wrong time or date recorded. This means keeping track of the exact amount of working hours for the exact working employee and the correlating payroll calculations. No "false overtime" to worry about!

Cost-Effective
No ID cards, badges, or other equipment is needed for the attendance system users. All you need is just your employee's biometrics. Facial recognition offers good business value for the enormous saving of your money.



Contact-less Attendance System & Saves Time
This keeps employees hygienic and safe as facial recognition technology does not require any physical contact to clock in and out. It permits employees to look at the device for less than a second and they will be identified instantly. Facial recognition devices also remove the hassle of swiping staff ID cards, resulting in an efficient working environment.

Reliable Attendance System
Identification based on face detection allows your company's employee attendance record to achieve very high accuracy. Using a reliable bio-metric attendance system is the first step of fraud attendance prevention e.g buddy punching. The face recognition system overall prevents fake check-in or check-out in favor of another employee.


Facial Recognition Application Areas
The attendance system is being implemented by many Malaysian SME for various purposes and across diverse domains, such as recording the attendance of students in colleges or schools, marking the presence of employees in companies, etc.

Offices

Factories

Construction Companies

Educational Institutions

Healthcare Organizations

Agriculture Industry

Retail

Service Industry

Security Company

Bank
Face Recognition Device Specifications
Dimension

195*85*32mm

OS

Android 8.1 with Octa-core 1.5Ghz CPU, GPU support

Memory

2GB RAM and 8GB ROM

Screen

5 inch IPS screen with 800*480 resolution

Face Capacity

1,000 standard; optional 2,000/5,000

Log Capacity

10,000(auto override)

Face Verification

Single and Multi face

Detecting Distance

0.5-4 meters, adjustable

Cameras

RGB camera & Infrared camera

RGB camera

Capture sensor

Progressive scan CMOS

Resolution

1600*1200

Field angle

51'C

Focal length

3.5mm

Aperture

F2.8

White balance

Support

Exposure

Support

Resolution

2.0 Mega Pixels
Infrared camera

Capture sensor

Progressive scan CMOS

Resolution

1600*1200

Field angle

51'C

Focal length

3.5mm

Aperture

F2.8

White balance

Support

Exposure

Support

Resolution

2.0 Mega Pixels

Interface support

RS-232 & RS-485; TCP/IP

Wiegand 26/34 output

2 Alarm inputs

Verification time

<0.7S

Communication

TCP/IP; WIFI(Optional)

Card

Support IC Card(13.56Mhz)

Protection

IP 42
3.5″ Touch Screen Specifications
| | |
| --- | --- |
| Product | 3.5″ TFT Resistive Touch Screen with SPI Interface |
| Resolution | 480 x 320 resolution |
| No of Core | 4 cores |
| CPU Clock | 1.2 GHz |
| RAM | 1GB LPDDR2 |
| USB Port | 4 x USB 2.0 |
| HDMI | 1 x full-size HDMI |
| WiFi | Yes |
| Bluetooth | Yes |
Face Recognition System Video