BizCloud App for GPS Clock In
BizCloud App is a Mobile App that capable of capturing GPS positions and time of clocking. It is used to capture the attendance of employees that are working on site. For example, the employee do not need to attend to office early in the morning, but go to customer place directly and clock in with the mobile app.
BizCloud App are available on both Android and iOS platform. To download the app, simply search "BizCloud App" on Google Play Store or App Store and click "Install" to download.

Online Leave Management System Features
User-friendly interface
Check leave availability
Apply leaves
Modify leaves application
Cancel leave application
Leave types selection
Auto calculate leave entitlement
Approval and notification via e-mail and/or SMS
Leave management system reports
Calendar view
Benefits of BizCloud Android App
Apply leave online
View leave entitlement and leave balance online
HR/managers are able to manage employee's leave with ease
Better, easier and faster leave management processing
Low leave administration costs
Able to track, record, monitor and evaluate employee's leave details
Saves time and cost
Easier leave planning
Able to configure your company's events and holiday
---
BizCloud Android App Guides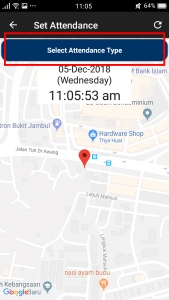 4. Time & Location
Verify and confirm the date, time and map location. Press on Select Attendance Type
---
BizCloud iOS App Guides