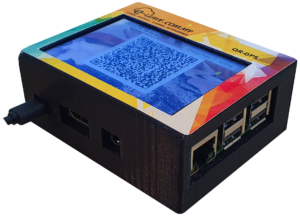 Often there's a need for a quick and easy way to check people into public events, seminars, training, etc. Usually, registering many attendees at one time in the same location involves tedious work and long waiting times. e-Leave HRM QR Code Attendance System allows event organizers to record attendees and record their details. For example, name, date, and time of the attendance, all in one QR Code scan.
Tracking attendance or facilitating check-ins through QR codes is genuinely engaging and convenient for the attendees who can be students, business delegates, event sponsors, employees, or VIPs. Consider sharing these codes at the time of registration or while promoting the event so that the attendees know about quick check-ins, a major motivator for attending the corresponding event.
QR GPS Attendance System Video
| Attendance Taking | Scan QR-Code via Bizcloud App |
| --- | --- |
| GPS Attendance | Yes |
| AI | Yes (Predictive Employee Work Pattern) |
| Cloud Storage | Yes |
| Wi-Fi | Yes |
| Bluetooth | Yes |
Q: This system can allocate to how many places?
A: 1 unit QR-GPS device is for 1 location only. The extra device is needed for a different location.
Q: The attendance report generate every month in Excel?
A: Can generate reports online and able to export them to Excel. Cloud attendance module subscription is needed.
Q: RM499 for one time or by monthly?
A: RM499 is one-time payment for QR-GPS device only. You need to subscribe to our HRM Cloud system with Attendance module to view the records and reports.
Q: Is the QR-GPS device able to work without the internet? Is it able to sync back the records after internet restore?
A: QR-GPS device does not connect to the internet. The employee phone is using their 4g to send attendance data once they scan. Since almost everyone got a smartphone, this issue should not be a problem.
Q: How to prevent employees share login info of BizCloud App and login for others?
A: There is a locking device with the login ID in BizCloud App, so the device is unable to use another ID to log in unless they request the admin to reset. The process is automatic except to release lock.
QR GPS Time Attendance Management System Malaysia
Convenient check-ins or attendance tracking through QR codes for event participants such as students, business delegates, event sponsors, employees, or VIPs. Great tool for event organizers to facilitate large scale events and efficiently allocate human resources for other purposes such as event promotion.

Contact-less Attendance System
Our contact-less QR code device is a great and effective solution for time and attendance management. Clock in and clock out by just using Bizcloud App on your smartphone and employee's attendance will be recorded instantly! Hygienic issues are also addressed using this QR code method in taking attendance.

The QR code generated in the QR-GPS attendance system reduces the company's cost.
There is no need to provide employee RFID access cards or printed RFID employee ID tags. By just a monthly subscription to our HRM e-leave system, you are able to keep track of all your employee's attendance in the company.

This QR-GPS attendance system works efficiently on both popular smartphone platforms such as Android and iOS. Employees can install the Bizcloud App from the iOS App Store and Google Play Store for free. We will always update our Bizcloud App from time to time to give you the best experience in using our Bizcloud App! So make sure to always update it from the iOS App Store and Google Play Store.
The QR-GPS attendance system has a built-in GPS, where it records the attendance of your employee and with the location of your employee. This is also to avoid the employees to false their attendance as their location can be tracked. The Bizcloud App has built-in GPS as well, hence those employees who go to customer site directly from home can clock in by the Bizcloud App. The Human Resources department will then able to check their location and their attendance from the HRM e-leave website.

QR-GPS attendance system software simplifies tracking employee entry and exit by scanning QR code on the QR-GPS with a phone at the workplace or out from the workplace. HR can check the location and time for employees who thumb-in out from the workplace. When your employee comes to work, takes a break, overtime, or leaves the office to service customers, those entry or exit points can be recorded accurately with ease.