Generate payroll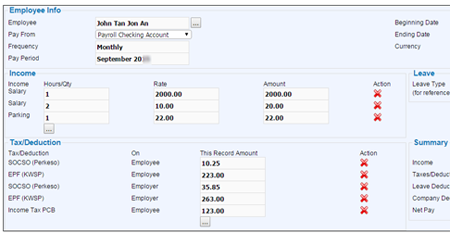 BizCloud payroll system allows admin of our client to generate payslips for their employees every month through the web-application system. Our clients can calculate the employee's net income and submission of tax document to government. There are four portions in payslip which including income, leave, tax/deduction, and summary.
Payslip Elements
Income

Employee's salary, overtime claim and parking claim will be shown.

Leave

Balance Leave will be shown. If there is unpaid leave for an employee, the salary amount will be deducted in this column. The leave application that is being approved only will be calculated.

Tax/Deduction

Deduction amount and details for taxes (EPF, PBC), national insurance and other deductions.

Summary

A summary of an employee year-to-date information including total income, tax deduction, leave balance and total net payment that obtained by employee.
Re-calculate
Employer can click on the 're-calc' button at the bottom to re-generate new pay calculation. However, admin of company still can amend employees' payroll or add new payslip during the payment period. Employers can print the payslip or send the payslip in PDf format to their employees.

Submission of Statutory Deduction / Contribution to KWSP / Perkeso
BMO Payroll system will help you to calculate the amount of EPF, SOCSO and Salary needed to pay. Our clients can print out a detail report for management for verification purpose and sign on it. After verification, employer can login to EPF/SOSCO webpage to key in the deducted amount of employee, and then send the related information to third party( for example, bank) to process the payment.