Generate payroll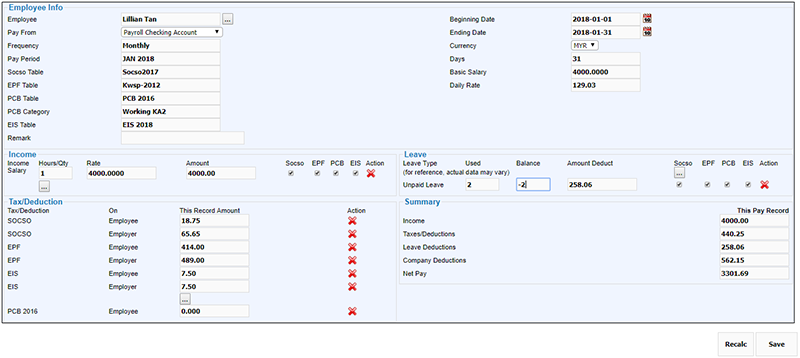 BizCloud e-Leave HRM Payroll system enable authorized personnel from your company to create payroll computation based on your company's rules.

Our payroll computation is compliant to the requirement of our Malaysian Labour Law in calculating the deduction of Unpaid Leave based on the number of days in the payroll cycle to decide the amount used for the deduction.

From the payroll computation, you are able to view that all statutory contributions from the employee and employer are listed based on the latest table from the statutory bodies.

Deduction of KWSP, Perkeso, SIP / EIS and Income Tax are done based on the requirements of the companies.

There are 6 portions of the payroll computation to ensure that all calculations are correctly done namely Employee Info, Payroll Cycle, Income, Leave, Tax/Deductions and Payroll Summary.
Payslip Elements
Employee Info

Employee name, payroll period, Socso tables, EPF tables, PCB Table & Category, SIP/EIS tables and able to add remarks for the employee in their payslip.

Payroll Cycle

Show the payroll start date and end date, Currency, Number of Days in the payroll cycle, Basic Salary and Daily Rate (used to calculate Unpaid Leave amount).

Income

Employee's monthly salary including all the allowances, claims and overtime will be shown here.

Leave

All taken leave within the payroll cycle will appear here including the number of days taken and balance of the leave. If there are any Unpaid Leave taken, the number of days and amount will appear based on the Daily Rate.

Tax / Deduction

All statutory contributions and tax deductions will be listed here including KWSP, Perkeso, SIP/EIS and Income Tax for Employee and Employer will be shown. Any other deduction from the company namely Tardiness will also be listed here.

Payroll Summary

Here the whole month salary is summarized into:
Total Income
Employee Taxes/Statutory Contributions
Employee Leave Deductions
Company Statutory Contributions
Net Salary
Re-calculate function
If there are any alterations on the data from the system, the payroll personnel are able to click the Recalc button so that the payroll for that employee can be re-calculated based on the changes.
Payslip
Our BizCloud e-Leave HRM Payroll system, allow all employees to view their payslip once it has been created. The employee can choose to print it out a hard copy for their own safe keeping.

The payroll personnel can print all payslip in PDF format or email the payslip to the employee'e email.
Submission of Statutory Contribution
BizCloud e-Leave HRM Payroll system is automated with statutory contribution calculation. We comply to Malaysian Labour Law requirement covering KWSP, Perkeso, SIP/EIS and Income Tax. We allow our customers to select which allowances that are paid to the employees are effected by these statutory contributions.

These statutory contributions can be exported or printed in their normal hardcopy for safekeeping while payment to these statutory bodies are made through online payment via each of their webpages for KWSP, Perkeso, SIP/EIS payment and Income Tax.

Payment of the employee salary are also made easy as it is made through the company bank account.