BMO POS TF Face Recognition + Door Access with Installation
PRICE: RM2699 (FREE 2 Months Cloud)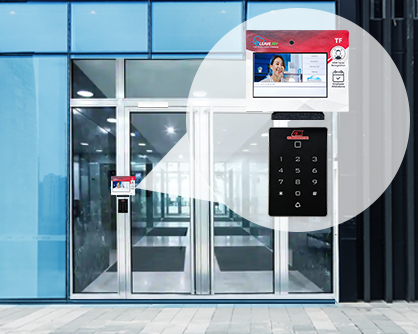 Installation area Penang, KL, and Johor Bharu worth RM650
TF Face Recognition
UPS + Door Access
TF Software Integration with Door Access
Required 1 power plug prepared by the customer
Piping (non-conceal) for cable connect to TF & door access number pad
Installation of door magnet lock, TF & number pad device

A wooden door can drill
The glass door will add to the bracket
PSU BOX
Download Door Access Guide
The Benefits of Face Recognition Door Access Control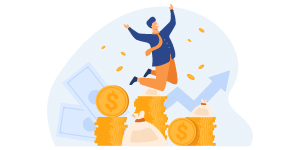 Reduce the overall cost to easily fit into your tight budget since you do not need to purchase any access cards. The more staff you have, the more money you can save.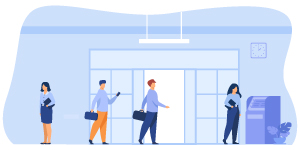 Hands-free user authentication
Just pass through the security gate seamlessly despite both of your hands are full while still securing your building with the highest security up to Face Biometric level.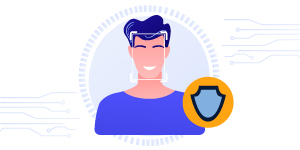 The latest generation of Facial Recognition devices provides accurate and highly secure authentication, when compared with traditional access methods such as PIN code or key fob door entry.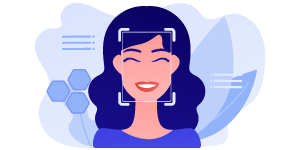 No authentication device required
A physical device, such as a key fob, RFID card, or smartphone, is required for many door entry and access identification techniques. The user will be unable to access the building if they forget or lose their device. Face recognition as an authenticating 'device' will, of course, always be with you!
Door Access Control Solutions
Authorized access has evolved tremendously since the days of biometrics face ID, passcode, and card ID. We are now living in the era of facial recognition. Face recognition for access control and time attendance is an inevitable trend that provides a convenient "touch-free" experience. POSMarket Face Recognition Door Access Control helps increase the security and efficiency of access control and time attendance tracking, making them easier than before!
The user will be unable to access the building if they forget or lose their 'device.' Face recognition as an authenticating device will, of course, always be with you! Just use your face to open the door. Touchless access to doors – no more fumbling with key cards, fobs, or phones. Door Access System is built on flexible, open technology to provide management, real-time monitoring, and control of your access control system-all from a browser, with no additional software to install.
Our access control is not just one singular system. It is an integration of multiple adjacent systems that allow for a seamless approach to modern security. Starting off with the basics, our access control is able to utilize advanced ID readers. Whether you need a simple card ID or passcode, or something more reliable such as biometric scans, we have got you covered!
Door Access Control & Attendance Management System Malaysia Customer Setup
Choosing the right door access system is not easy without relevant experience in the security industry. Installing the secured Door Access System requires extensive knowledge of the door access, security industry, setup, installation, and excellent planning to ensure minimal maintenance and peace of mind. That's why you need a Professional Door Access System Team Installation. You can be assured that you get the top service and reliability for the best setup and installation.
Manage All Type of Visitor Scenarios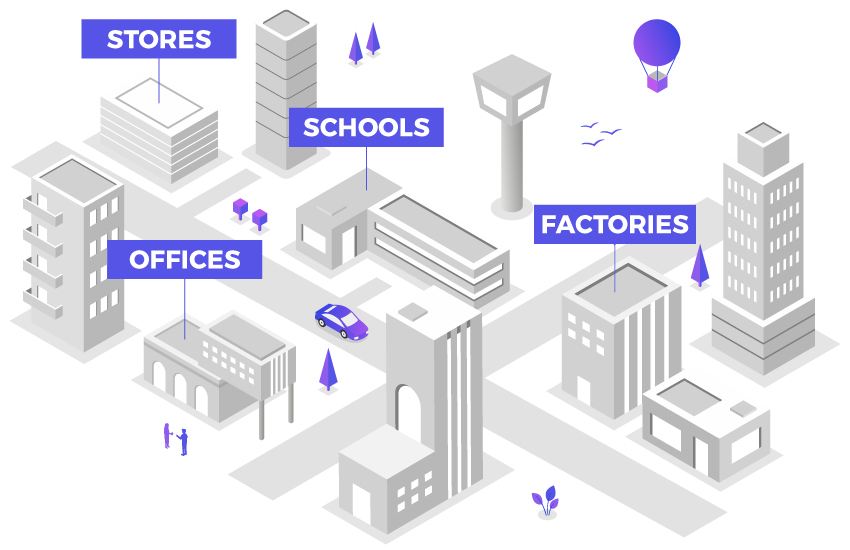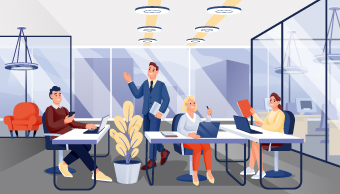 In office areas, access control and attendance are equally important. Employees can easily clock in and out fraudulently using standard card-based methods. Fingerprint-based solutions may not be as effective during peak hours. Our Face Recognition Door Access Control offers a reliable and efficient solution for office situations that require speedy recognition!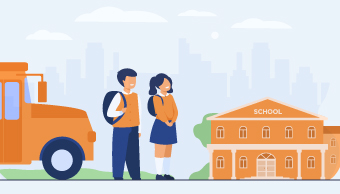 Security is a significant priority in today's schools, especially kindergartens, or even college. Only authorized students, employees, and parents are allowed to enter the campus thanks to face recognition at the school entrance. It is more important to strengthen the management of student transportation, school gate access management, and dormitory personnel access management.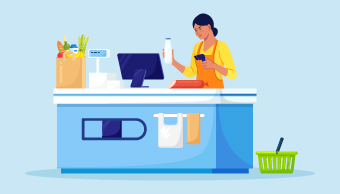 As a retail business owner or store manager, your time is best invested in mentoring and training your staff and ensuring that attendance records are accurate and authentic. With the use of a biometric attendance system, all the human error that occurs when timesheets are filled out manually is eliminated. The attendance is logged accurately and updated in the system which making payroll processing a lot easier.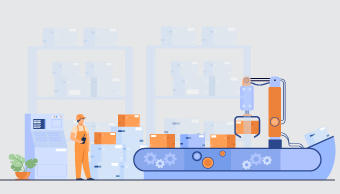 Many factories use restrictive access control systems for security and safety. Conventional methods of verification, aren't as reliable or convenient as facial recognition today. When employees are handling boxes or wearing gloves, fingerprint authentication can be inconvenient. Face recognition terminals eliminate all of these issues while also adding security and convenience wherever they are needed.
Automated Attendance Report with A.I.
Face is the new ID
TF Face Recognition Device is designed to be intelligent with the help of computerized artificial intelligence (A.I.).
Trace the time according to the in/out, lunch/leave, etc.
Provide a whole corporate attendance list summary.
Save your HR admin's time, reduce human error, and identify employee attendance weaknesses.
The TF Facial recognition device has two modes: Standalone or Cloud-based.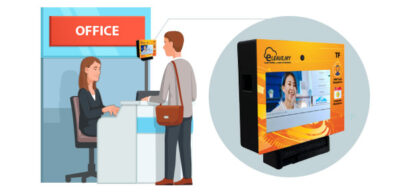 The standalone version can work without syncing to the cloud. However, it will only represent you with a list of in and out time of the employee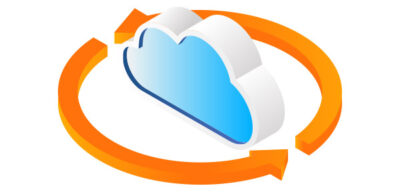 When it is cloud based, it will leverage the power of computerized A.I. to summarize data according to employee work pattern.
Call our professional team at 1 800 87 7061 to find out more about Face Recognition Door Access Control
No more hassle of losing or forgetting to bring an access card with Face Recognition Door Access Control
TF Face Recognition for door open and close
Number pad as backup open / close if TF failed
Face Recognition Attendance Door Access provides employees with quick and convenient access to the workplace while preventing fraud. Malaysia Door Access Control equipped with face recognition solve the problem of work time tracking. Use face-based access control both at the entrance to the office and for protecting restricted access areas on the premises.
Face recognition works as touchless biometrics keep people moving through lobbies quickly and limit the number of surfaces touched to gain access or track time. These features improve convenience, health safety, and more.
The Covid-19 pandemic has resulted in a huge growth in the requirement and application of touch-free technologies and products in the workplace and multi-tenant environments to reduce the frequency of contact between individuals, thereby helping to reduce the risk of virus transmission. Hence, authentication methods that allow users to identify themselves without physically touching devices such as RFID, NFC, Bluetooth, and now face recognition are becoming the preferred options for door access system.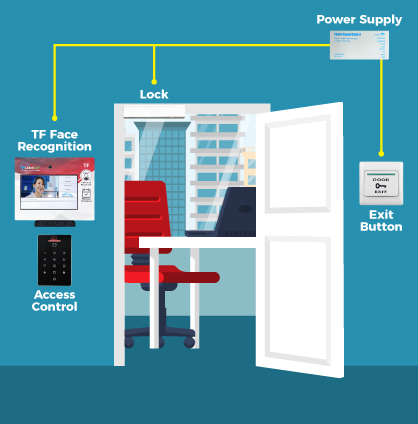 RM2699 TF Face Recognition + Door Access with Installation
What's in the package:
1 unit x RFID keypad
1 unit x Magnet Lock Bar
1 unit x Power Adaptor
10 unit x Proximity Card
1 unit x Push Button
TF Face Recognition Attendance System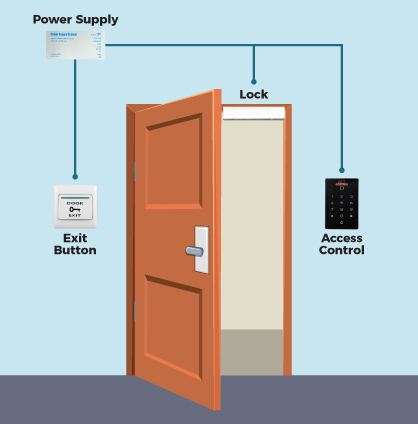 RM699 Door Access Control Standalone with Installation
What's in the package:
1 unit x RFID keypad
1 unit x Magnet Lock Bar
1 unit x Power Adaptor
10 unit x Proximity Card
1 unit x Push Button
Price for single door. Add on RM150 for 2 doors
Glass or other material door will be checked and quoted accordingly