Attendance System e-Leave HRM System Malaysia
Track Employee Attendance Online/Offline
Recording employee clock in and out, calculate worked hours, keep track of your employee work hours for better wages calculation. Need not worry about buddy punching again. We built the system by our own that works perfectly with HRM System, e-Claim System and Payroll system – no integration and incompatible issue.
With our system, you can track absent, late comer, and etc.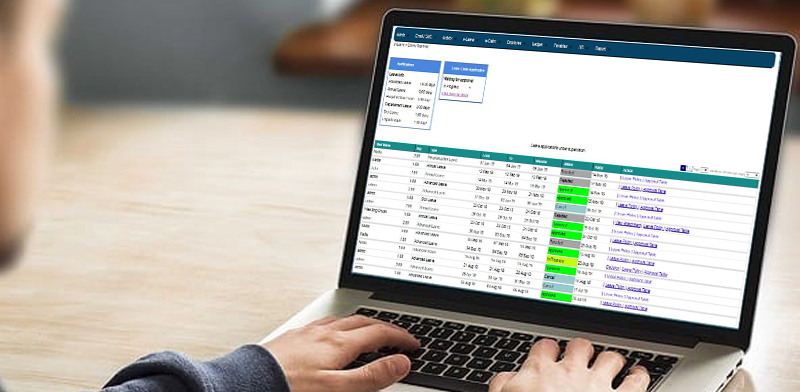 Online Attendance System
You can access the system anytime anywhere, to view and to administrator your company.
You can setup employee work pattern.
If an employee applies leave or public holidays, the attendance system will notice that there won't be any attendance record for the day.
Offline system
If you prefer to have an on premise system, offline attendance suit you best.
With offline attendance, you need to install the software into your PC, alternatively use finger print attendance clock for user to check in and out.
The data will be store and analyzed in our offline e-Leave HRM attendance software.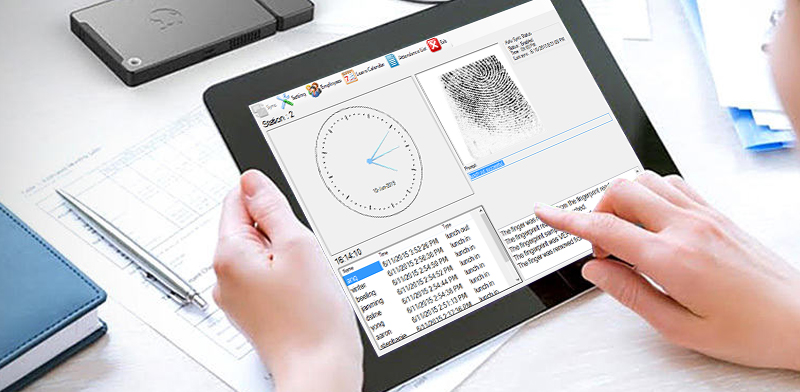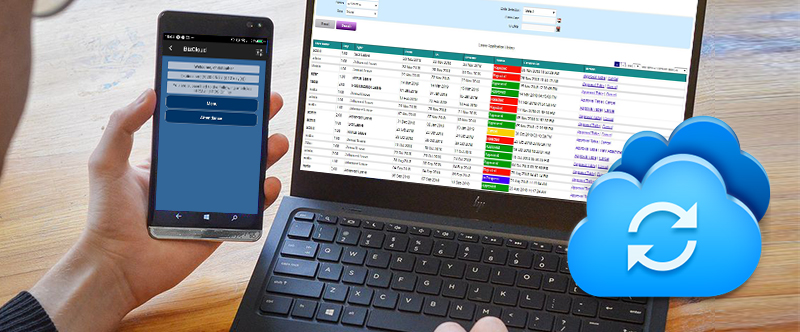 Data Sync Daily
All clock in devices data can be sync daily to cloud.
The centralized admin can access the data for all operation
Multiple Branches or Location Support
Our Bio Attendance System support multiple branches for example clock in branch 1 and clock out branch 2.
All data are sync to online and consolidate into comprehensive reports.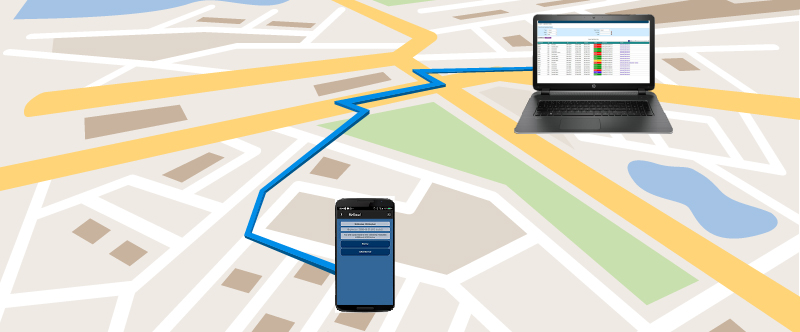 Attendance Device
Countertop Time Attendance Terminal (WiFi enabled) device will auto sync data to cloud (RM490)
Countertop Time Attendance Terminal (Standalone, no need network) require admin to retrieve data via USB drive and upload it to e-Leave.com.my cloud (RM290)
Attendance Software + U are U Fingerprint Reader 4500, you may install a software base Attendance System into your PC and couple with USB thumb print reader (RM490)
Mobile Attendance
We have customers that need to collect attendance data at remote area where there is no network. In order to address this problem, we let the thumb print reader keep data before sync data.
The user use our system to clock in and clock out, the data is kept until sync to system.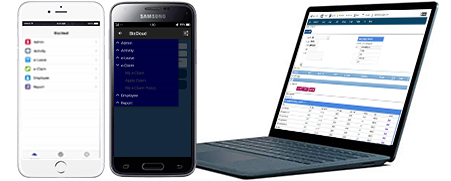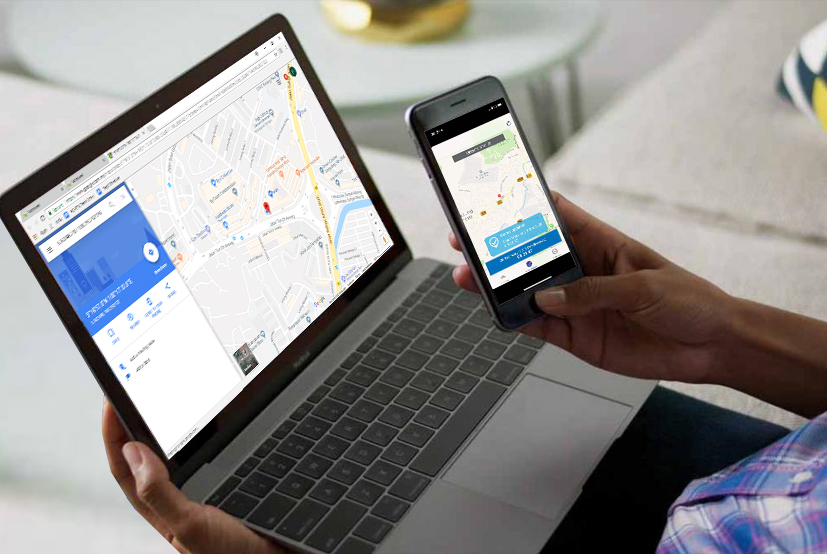 BizCloud APP Mobile GPS Clock In
A Mobile Time and Attendance Apps that is capable of capturing GPS positions and time of clocking.
We use it to capture the attendance of our employees doing support on site. For example, the employee do not need to attend to office early in the morning, but go to customer place directly and clock in with the attendance mobile app.
The admin got the coordinate and google map that show where is the clock in has been made. This can save a lot of operation time and improve productivity while given the employee flexibility of handling customer at the site. To get more detail data, you can require employee to clock in and out multiple times and all the coordinates are recorded.
Work Pattern
The employee working pattern is a set of data to define when should the employee work.
You can define employee to work in weekly pattern, 2 weekly, 3 weekly, alternate or monthly
You can also set employees to work in Saturday, alternate Saturday and etc.
The e-Leave HRM System Software will match the working pattern with attendance record to determine late, leave early, lunch time and etc.
After matching, the result is shown in your summary report.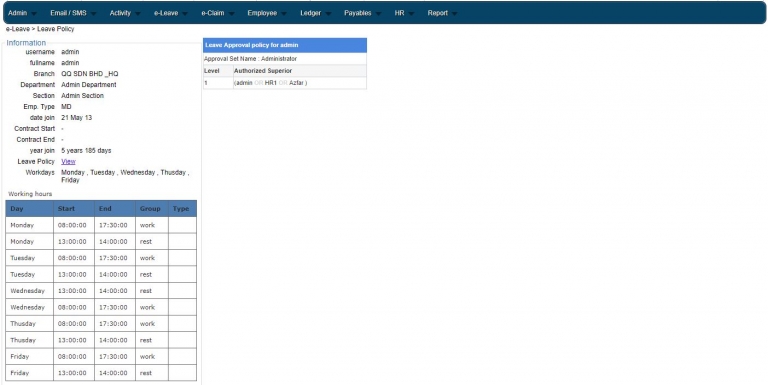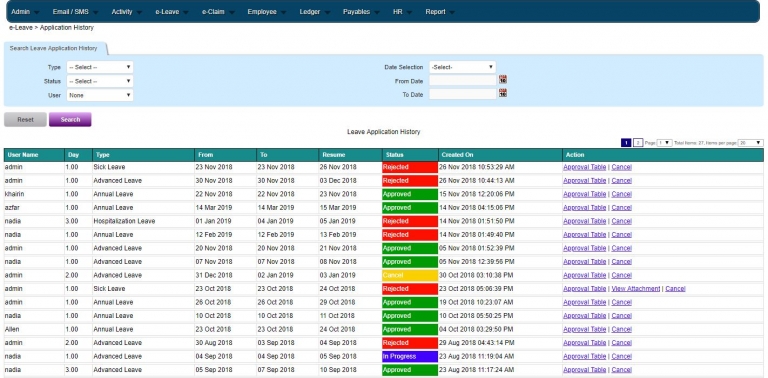 e-Leave HRM System and Attendance Integration
The attendance is integrated to BizCloud e-Leave HRM seamlessly. If an employee take leave that day, the attendance report will show that the employee is on leave and summary report will indicate leaves on the day.
Save time
For many SME, the automation of Attendance System record can save your admin work. It is not recommended to spend much time on routine and paper works but to focus on building the business itself.
Easy to Use Admin Page
Admin can modify user setting by authority, approval, and their attendance data.
You can find a lot of reports for each module.
If you need customization, please do not hesitate to contact us.


HRDF Training
We work with MobiWeb infocenter, a PSMB certified training provider to provide training for your company. You may utilize the HRDF fund to train your employee to use e-Leave HRM system.
Recording Employee Attendance
If you have employees, then you need to record attendance. In Malaysia, the Malaysian Employment Act defines the work weeks as 48 hours, with a maximum of 8 working hours per day and 6 working days per week. It is important to document every employee absence or tardiness, including the date, time and reason for any given incident. You should always keep these documents:
Employee attendance records
Personnel or employment records
Payroll System records for at least 3 years
Employee benefit plan (such as pension and insurances plans)
Documents of wage rates, job evaluations, seniority and merit systems, and any agreements between employees and company
The relevant documents are very important for reference when there are any incidents such as SOCSO claims, and etc.
For SME owner,which have to focus on the core business, they should not spend their time and too much resources maintaining the daily routine job, but should let a proven system handle automated tasks.

Table Top Attendance Device
The table top attendance recording device comes with fingerprint sensor placed on top of terminal, it enables all-directional fingerprint reading for the convenience of attendance.
For mobility, it is even built-in detachable battery lasting for up to 8 hours, and micro-USB power supply for power bank (minimum 2A) connection, there are no more worries for lacking power sockets supply.
Features
Employee attendance records
Personnel or employment records
Payroll System records for at least 3 years
Employee benefit plan (such as pension and insurances plans)
Documents of wage rates, job evaluations, seniority and merit systems, and any agreements between employees and company
Max User: 1000, Max Fingerprint: 1000, Max Record: 50,000 rows.
Software access
Software will be provided to retrieve attendance record. The report can be exported to excel or PDF.

Human Resources Management System and HR Outsourcing Service for SMEs
Select a package and keep your human resources organized. You can:
Use Attendance System Malaysia as standalone login terminal to login with fingerprint, magnetic access card, or password.
Use it with your POS Terminal
Manage your company HR activities with our built-in modules
Outsource your monthly HR processing functions to us. We will handle it for you.
If your company comprises of multiple branches in different location, BMO HR Attendance Software is comprehensive for you to keep track of your employees' leaves and work hours. Recorded data from all branches will be synced to the BMO Cloud System.
Explore the popular Malaysia HR Software specially designed for Malaysian Companies! Bid goodbye to stacks of papers and trouble!