Leave Management System Email Approval
Approval System via email eliminates the frustrating process of form-filling and to wait for the forms to reach the Approving Group. With Email Approving feature, decisions can be made instantly without delay. BMO HRM System Email Approval allows HR/management department to manage employees' leaves and claims.
Whenever there is a leave or claim application, an automated email will be generated by the system to your predefined email address. Managers can provide disposition by just a single click in the Email. An automated notification will be sent to the employee's email on whether has his leave been approved or rejected.
[one_half last="no"]
Advantages of e-Leave Email Approval
Employees can easily determine their leave availability according to days entitled for them while requesting for leave online via web browsers. With Email Approval System, employees will be notified right away once approver provide deposition.
It also benefits the management department as they can monitor all leaves taken and leaves requests systematically. Everyone is able to apply and take note of their leave records.
[/one_half]
[one_half last="yes"]
Other Benefits of e-Leave Email Approval
Easy Administration
Able to keep track of employee's personal and employment information
Paperless. Carried out online
Cost and Time Saving as no paperwork is involved
Automatically records approved leaves into the system for future references
Accurately tracks down each and every employee's leave
Helps management to make better decisions
[/one_half]
[one_half last="no"]
Employee Leave Approval Process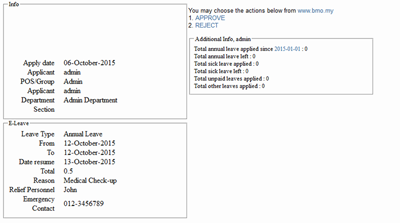 Leave Approval System includes general information such as:
Apply Date: The exact date your employee applied leave
Applicant: The name of the employee
POS/Group: Approval Group
Department Section: Approval Group Department
Leave Type: Type of Leave the employee has chosen. See more Leave Type
From: The starting day of the applied leave
To: The last day of the applied leave
Date resume: The date when the employee returns to work
Total: Total days of leave applied
Reason: Leave purpose
Relief Personnel: Person to take over while the employee is on leave
Emergency Contact: Employee's emergency contact during their absence
Summary of other leave information is included in the Email as well
[/one_half]
[one_half last="yes"]
Employee Claim Approval Process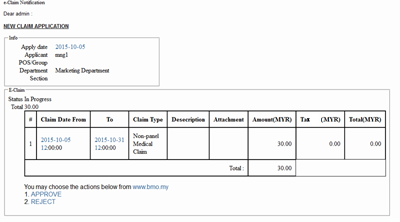 Claim Approval System includes general information such as:
Apply Date: The exact date your employee applies his leave
Applicant: The name of the employee
POS/Group: Approval Group
Department Section: Employee's Department
Claim Date From: The starting day of the claim
To: The last day of the claim
Claim Type: Type of Claim the employee has chosen
Description: Additional information about the claim type
Attachment: Attachment uploaded by the requester
Amount: Total amount excluding tax
Tax: Tax amount
Total: Total amount including tax
[/one_half]