For your management team convenience, BMO Leave Management System is built to allow your managers or supervisors to check employee or staff leave applications whenever they are not in office. Your employees do not have to wait for their managers to return to their office and manually approve the written form. All approvals can be done conveniently in the BMO e-Leave account.
1. Go to BMO home page and click "Login".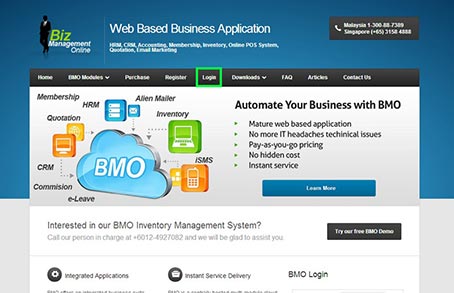 2. Login to your BMO account.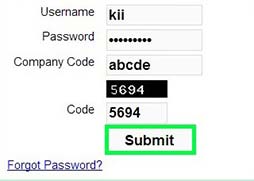 3. In the approver's BMO account home page, proceed to e-Leave > Leave Approval.

4. When you see leave application's status labelled as 'In Progress', it means the leave application has not approved and still remain as "pending". Then, click 'Decision' to proceed for leave approval.

5. Then, you be lead to Leave Info page. As you can see, it shows PENDING in the Leave Approval Table. Click on Leave Decision select box and scroll down to choose your Leave Decision. In this case, the approver chooses 'APPROVED' for the leave application.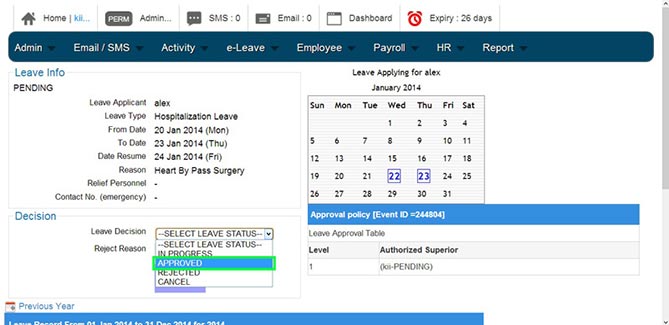 6. Click 'Submit' to submit your changes in Leave Decision.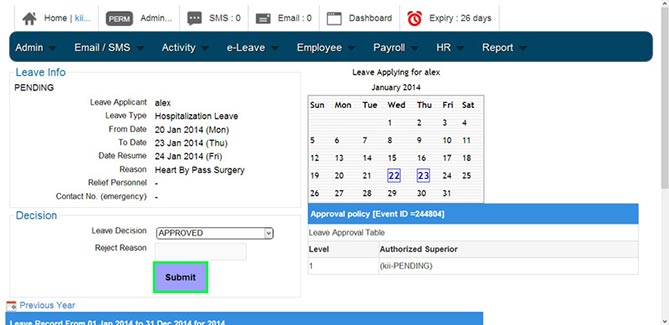 7. A message box will pop up and show that you have successfully updated the leave application status. Click 'OK' to dismiss the message.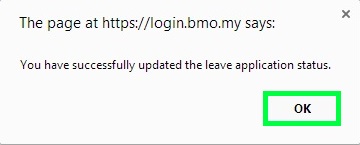 8. The system will process your decision immediately and it will show 'Approved' for your employee leave application status.
Note: If the approver chooses REJECTED the application, it will show 'Rejected' as leave application status.

9. If you want to know more about the leave application, click ' Approval Table' to view more details.

10. The "Approval Table" will show you the authorized superior who approved the employee leave application. Employee will also get similar information at his or her own e-Leave Application History.

11. To hide the Leave Approval Table, click 'Approval Table' again.

12. Below is the Leave Application listing again after dismissing the Leave Approval Table.