Our BMO all in one HRM system cover attendance, leave, claim and payroll functions. Components included in All in One Attendance Terminal: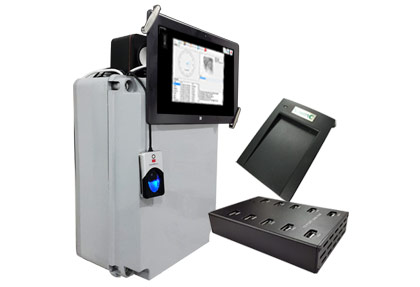 All-in-one HRM System Bundle Pricing:
RM3149
(ONE time payment, inclusive ONE time installation)
Buy Now
Contact Us
Additional Purchase with All in One Attendance Terminal Bundle
BMO Attendance Software (Online) RM75
per 100 employees
It is recommended to purchase BMO Attendance Software (Online) so that data set in the attendance terminal can be recorded onto your company's main server.
How does e-Leave BMO Attendance Software work?
You can use this All in One Attendance Terminal to:
Have your employees scan their fingerprint / scan RFID employee card to check in/ check out of the office
Set your employees' type and work pattern (part-time workers, permanent workers, contract workers)
Have all applied leaves recorded into employees' attendance report (Only with the use of e-Leave System)
Keep track of every employee's punctuality
Record attendance anywhere as it is light-weight and portable
Accumulate data into main server (with BMO Attendance Software (Online)
To Start Recording Employees' Attendance:
Launch BMO Attendance Terminal Application
Check in your finger-print
You will be prompted with "Select Action" window
Select Action (Start work, End work, Lunch time). Setting can be customized
Interested with other web based BMO HRM modules?
Attendance System

Our attendance system comes with finger print and RFID reader system for in/out time and able to manage multi-branches attendance.
e-Leave System

Employees can apply their leave through online and employer can manage their employees leave with highly configurable on approval and escalation flow system.
e-Claim System

Employees can submit their claim and upload the supporting documents via online and employers can manage the claim setting based on the employee type.
Payroll System

Employers can manage payroll online, generate monthly payroll report and employee's claim,attendance and leave will automatically calculate into payroll.