QR Fingerprint & QR GPS For Attendance Tracking
This simple yet perfect fingerprint biometric with QR code time attendance device is ideal for human resources or administration in monitoring employees' time attendance and processing timesheets more efficiently.


Face Temperature Scanner Employee Attendance System
Automated BMO FaceT Contactless Temperature Measurement Fit for Worldwide MNC Office Building, Singapore Malls, Malaysia Supermarkets, Hypermarkets, SME Office, School, Restaurant Entry Points and record employee attendance with e-Leave HRM integrated HRM System. Our BMO FaceT is currently Ready Stock with Fast Installation service to meet current market demands, especially during the Covid-19 situation.

Contactless Visitor Recording Solution
The BMO FaceT can record visitor temperature and photo into the database. This makes the device not only capable of recording employee attendance but visitor photo and temperature as well. The add on is a value-added for the attendance system.

Manage Your Human Resource Operation Using HRM System
Simplify tasks on Attendance, Leave, Claim, Payroll and Assessment
5 Steps to Automate Your HR
Hardware Catalogue
BizCloud App New Features
Our Clients
How our Biometric Fingerprint Time Attendance System works
Scan your employee's fingerprint into the attendance system, insert their working patterns, shifts, etc.
The employee thumbs in every day at the countertop fingerprint device from any company branch.
Daily attendance data will be synced to hrm-outsource.com HRM Cloud System
HR Administrator will login to Leave application to view the report, generate a report, or edit any setting.
If it is connected to e-Leave HRM and payroll, the e-Leave HRM will take into account the attendance, and payroll will reflect the absence.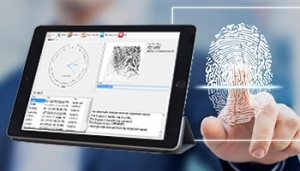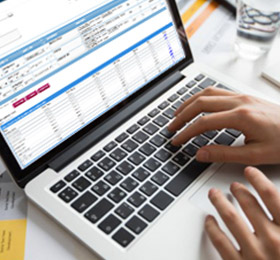 How our e-Claim System improve your HR process
Your employee login to their account, key in claim item, value, and then chooses to upload a photo of receipts, toll, etc. Finally, save the draft or submit the claim.
The claim will be sent to the email for approval automatically.
The whole process is simple and most simple to operate by even low-level employees.
The admin has multiple settings to limit the type of claim the employee can submit and even the maximum claim value per employee.
Finally, the payment can be done by manual update, print payment voucher, or even include in the payroll.
How our e-Leave HRM System reduces your paperwork
Initially, you setup leaves available for each type of employee, then the system automatically calculates leave entitlement and reimbursement and other from here.
Employee login to apply for leave via mobile app or website, the process is designed to be very easy for even lower-level employee to use.
Supervisor can approve leave via email according to the level and group of approval.
Reports available for admin.
If it is linked to the payroll system and employee attendance system, the payroll can show the leave balance, and the attendance report will show the leave applied too.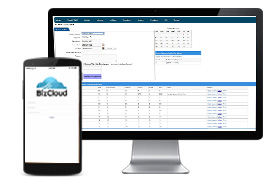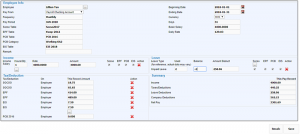 How our Payroll System works
Every month the HR needs to generate payroll statements for employees. With the help of HRM, the payroll is generated automatically.
Calculate SOCSO, EPF, EIS, income tax, etc.
If e-Claim and e-Leave HRM is included, you can opt to show the balance leave and claim payment.
Employee assessment and knowledge transfer
There is a question bank inside the e-Leave HRM system. Your expert can key in questions into the question bank with answers.
Then question set can be defined by picking up questions. Once done, assign the set to the employee to answer.
They can answer to do self-evaluation, KPI, knowledge transfer, or test.
This eases knowledge transfer and reduces training time and effort.


File and document management
You can scan all your documents online, the document can be tag under employee and put the description and remark for easy retrieve later.
The document can be PDF or picture format.
The data is stored securely and accessible only by authorized personal.
Training with HRDF Fund
Do not worry about training your staff to use the e-Leave HRM System. We worked with Mobiweb Infocenter Sdn Bhd (a PSMB Certified Training Center) where you can utilize your HRDF fund to train your employee to use the e-Leave HRM System.
The training can be done in your venue or out of your premise.